Taken from Popular Airsoft – all credits to Dom Gergaly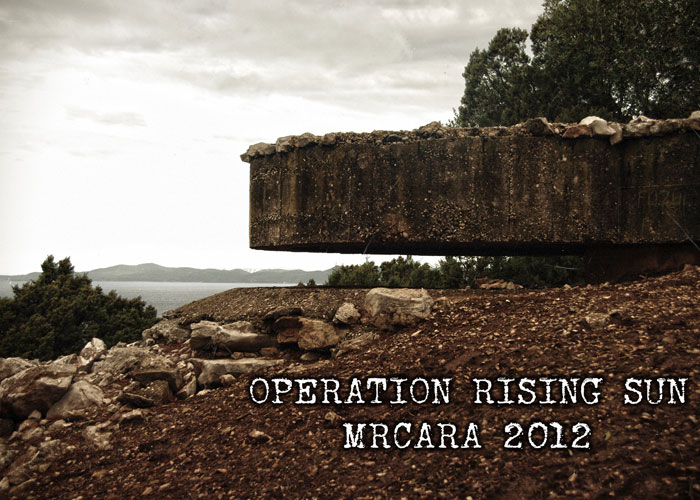 The idea of playing airsoft games on an uninhabited island sounds pretty interesting. Well, this year we got an invitation from Kreso Glavica of Adriatic Airsoft – Alfa to attend OP Rising Sun which was held on a small island in the Dalmatian region of Croatia. Since I haven't met anybody who has already been there I did not know what to expect, I'll let Kreso first tell you about the island:
"The first event organized at Mrcara island was a paintball game, Call to Duty III in July, 2011. hosted 81 players ('Crazy 81', you need to mention them ;-), from all over the world: Australia, USA, Canada, UK, France, Belgium, Netherlands, Germany, Croatia, Greece, and Poland. The next game was Rjavi Ris 8-Op. Octopus in September in the same year. Next year in May we organized a Boot Camp with international instructors for martial arts, CQB, military drill and survival, which was 4 days of brutal training. We have some ideas to continue these kinds of events in the future in combination with airsoft.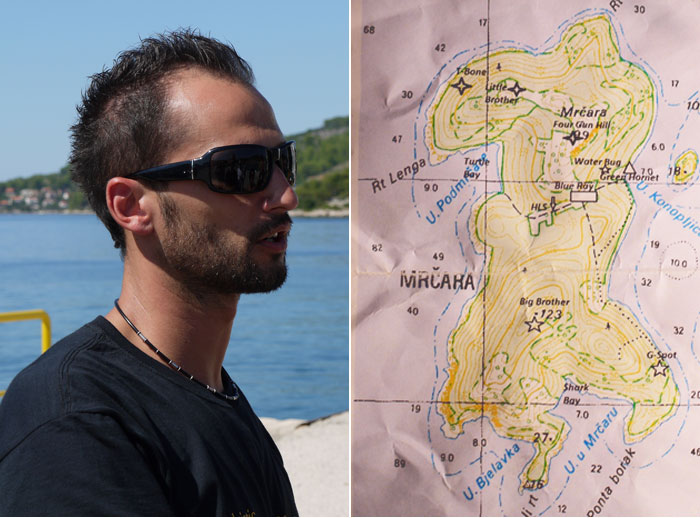 Our island can accommodate up to 150 players and with that many players we get intense games but from 20 players per team the scenarios are already playable. Why games on Mrcara are different? Maybe that question is for the players. But as far as I can see, whoever visited Mrcara loved it from the very first moment, the same way as I fell in love with it at first sight: peaceful, beautiful nature, no civilization, and isolated from the rest of the world.
After this last event of the season I will have a little break, to get rest, and continue planning next events… I hope that the first will be in May, 2013.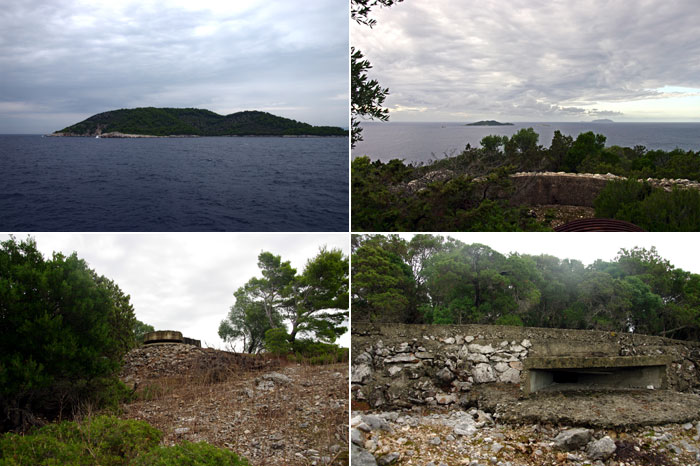 Game organizers are welcome to 'rent' the island for their very own game..they only need to contact us and we will set things into motion quick and easy.
Players can also go to diving school, rent a boat for picnic or come here to the island with their whole family because we are also in tourism business, renting rooms and cottages on our island."
Meeting point was at Split's Harbor Dock #28 at 0800H. Everyone who drove to this location also had the chance to put their vehicles into a guarded parking garage free of charge. Kreso at the dock was greeting all incoming players and when everyone got there he gave us our ferry tickets. The journey to the island took about five hours including a brief stop and a change of ferries in Vela Luka. Mrcara is located just off the coast of a smaller island called Lastovo. Here we changed to small fishing boats with all our luggage and began the final leg of the trip to Mrcara. Since the weather was quite windy on arrival, we didn't start setting up tents and just occupied an old two-story military building. People soon started assembling rifles, preparing their gear for an early morning start the next day. After an informal meet and greet we all had a nice dinner that Kreso and his family prepared for us.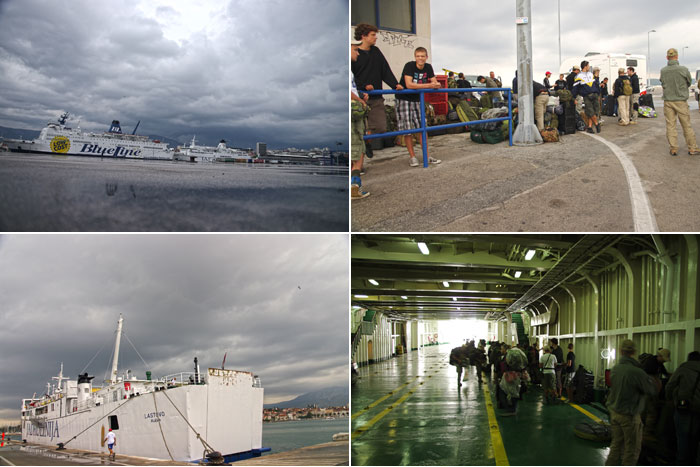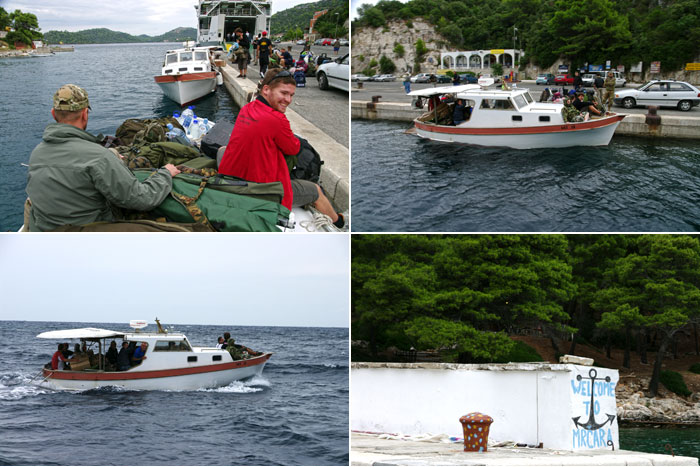 Gear: Only the use of BIO BBs were allowed on the island and for that I had GFC Rockets in my bag which are colored brown blending into the environment after they're spent. No Hi-Cap magazines on Mrcara (thank you Kreso). Silver Team members had to wear desert camo while White Shadow were sporting woodland colors, no blue and red armbands were necessary, only an orange rug which represented an injured/dead player. CQB limit was set at 350fps so I took my shiny new Marui SCAR-H that I was able to use both in the bunkers and outside as well. The terrain is rough and players often meet rocks and loose wooden terrain so wearing tough mountain boots was necessary. Usually, the Croatian coast is sunny and warm at this time of the year but if you are prepared with a poncho it could keep you dry if the weather turns and this is where I made a mistake because I forgot to pack any rain gear.
The first morning we all had to chrono our guns before the mission briefing began. Along with 3 Germans, 3 Slovenians and 9 UK gamers, I got assigned to the Silver Phoenix Squad (Silver Team) while 26 Italian players formed the forces of White Shadows. Our task was simple: land the shores at the White Shadows outpost, distract communications, disable power station, search/disarm nuclear bombs and most importantly kill everyone who interferes with the above objectives. Since the sea was pretty rough that day and safety was the organizers/team leaders' biggest concern they canceled the landing on the shore which involved a Zodiac type boat. Now we had to go straight after the bombs leaving the first part of the mission for the next day.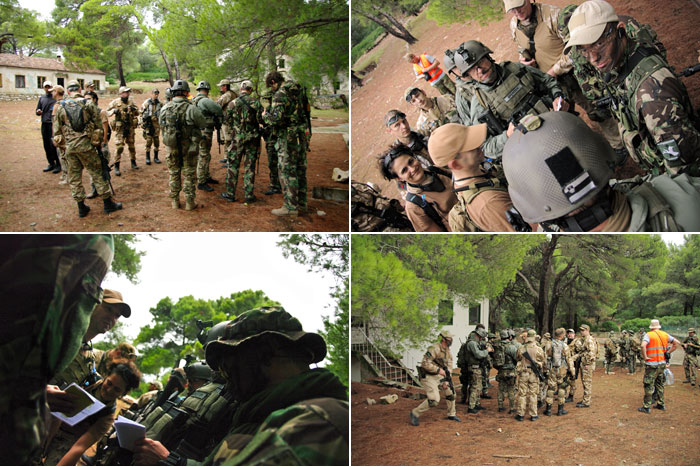 Everything went fine the first day except the heavy rain, but my Marui SCAR-H didn't let me down at all. We were all soaking wet by the time the mission ended but this did not stop us to start the night mission after a tasty dinner provided by our hosts.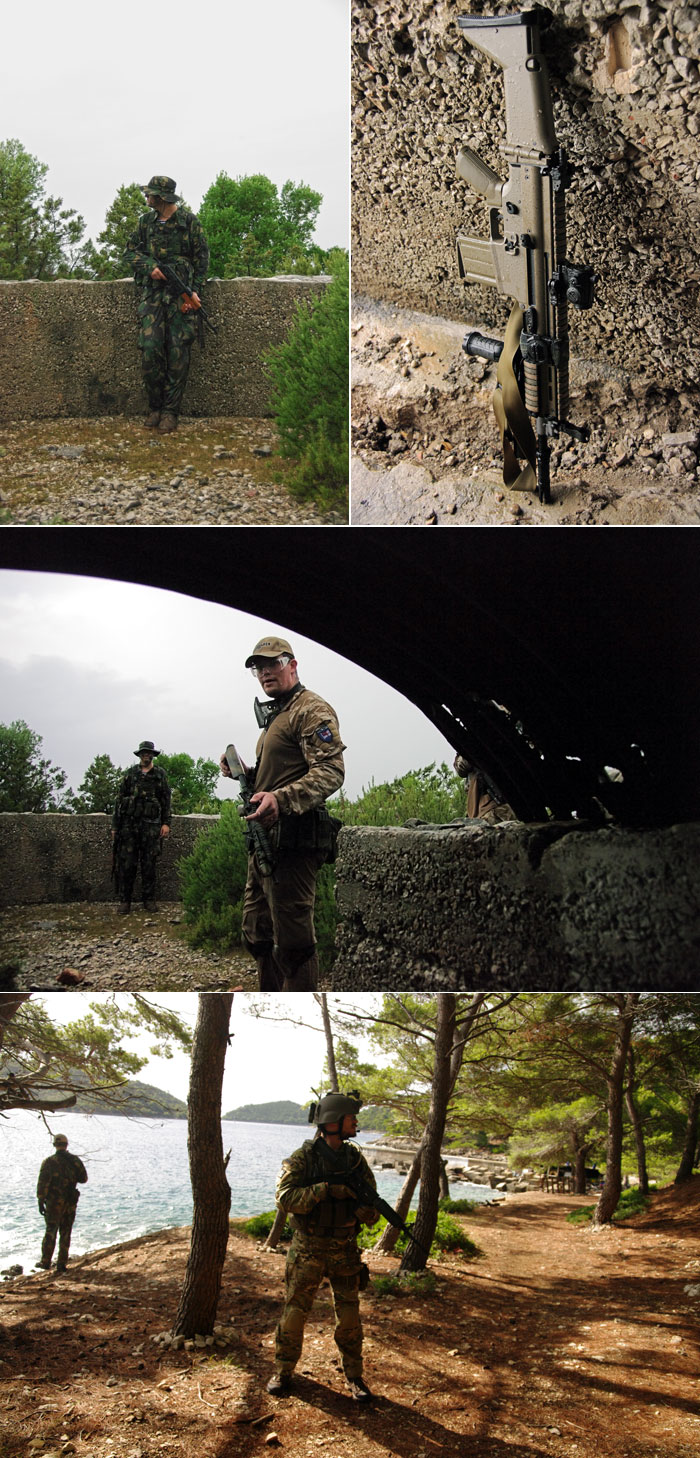 We were fighting in pitch darkness broken by powerful weapon lights and occasional red hit-indicators. The objective of this mission was to fight our way up the hill obtaining hidden glow sticks at three different points. Our enemy was equipped with Night vision sights and this did cost us lives, but Kreso the game master, came up with a great idea: use the Lada Niva as a "helicopter" to confuse our enemies. Our Rangers got the task to land in a Hot LZ while the rest of the Silver Team was providing cover fire. The plan worked and Silver Team put one more on the tally.
On the morning of our last game-day the gods were good to us as they provided nice weather. Too bad I had to bring only a Pentax as a weapon instead of the SCAR-H. I took photos without an orange vest sneaking through the bushes as part of the team. The terrain was unforgiving (Low Speed High Drag) but we managed to reach the G-Spot (Power Station) nearly undetected. Silver Team lost two of its Rangers in the process but we took the objective. Here I had to witness the dedication of our Medic who jumped into the water so he can heal his teammate who got himself between the rock and a hard place. This brave move saved the day for Silver Phoenix.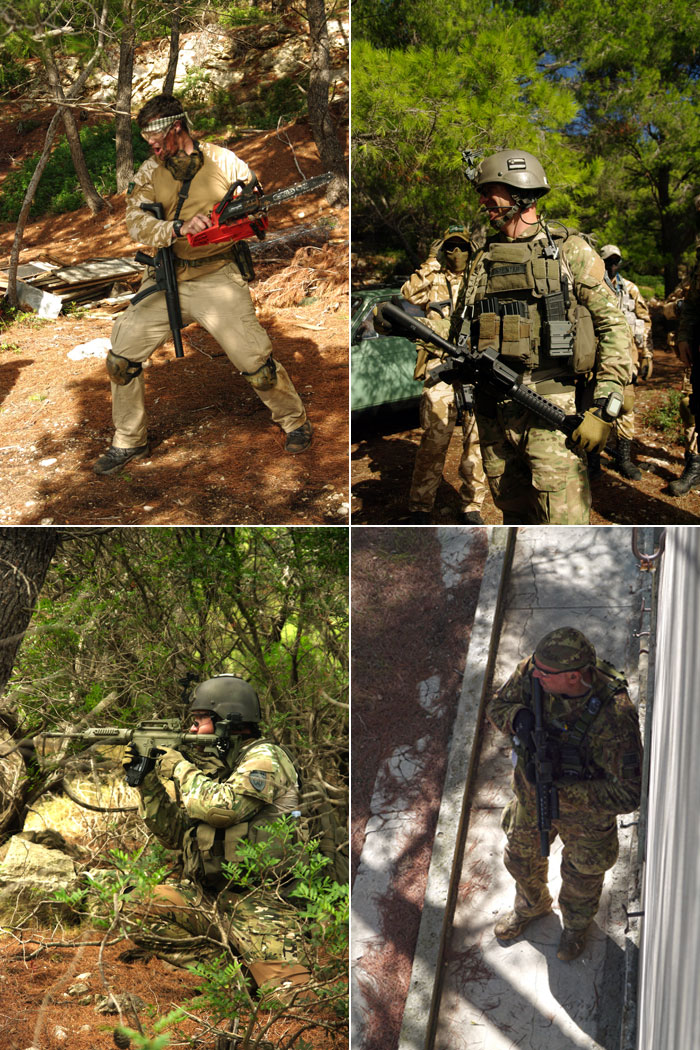 The other part of our team had to face the Italian guys at the barracks where they got defeated by Nebbia and his guys.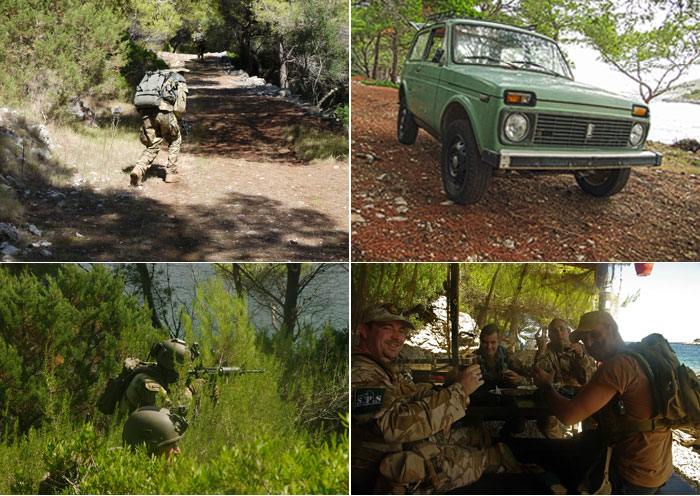 There was no clear victor at the end of the event but this didn't bother any of us. We all had fun and that's the most important thing. For me personally, this was the best event I ever went to. Of course there were small arguments and rule misinterpretations but none of which ruined the experience. There was no need for the game marshals to interfere with the game. The last night we all sat down at the same table sharing stories, jokes, and drinks. The party after the event was purely fun: excellent food and great people. I think everyone left Mrcara as a winner. Great work from the staff and both teams. See you guys in the next Mrcara event.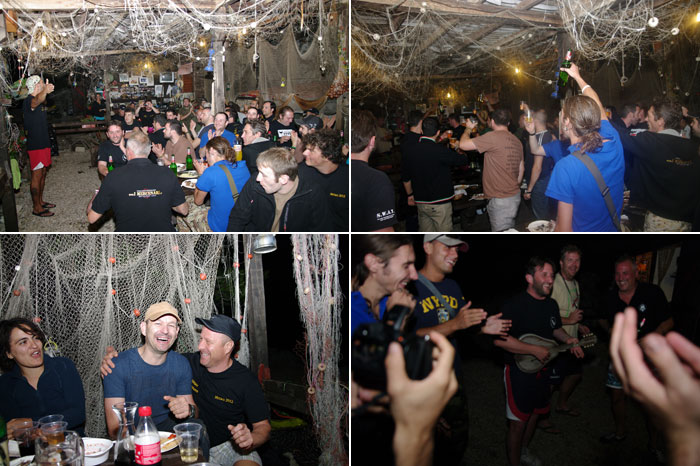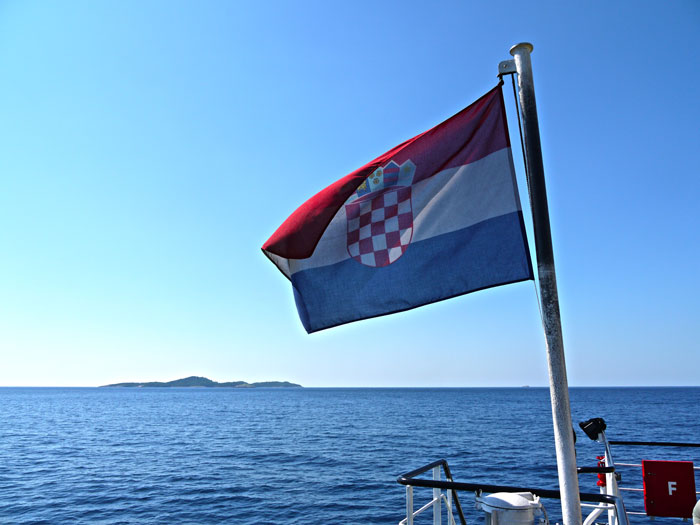 More photos of Operation Rising Sun At our Facebook Page and below is a video taken during the event.
---